Goldsleger painting 'Indeterminate' will be published on the cover of Isonomia and the Origins of Philosophy by Kojin Karatani

Duke University Press, September 2017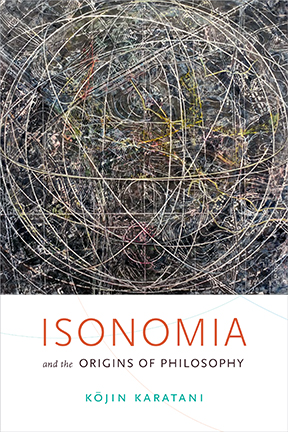 Unquiet Territories Exhibition at the Morris Museum of Art, Augusta, GA
December 10, 2016 – March 12, 2017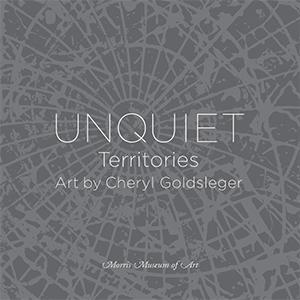 Click on the cover to view the Morris Museum catalogue Unquiet Territories Art by Cheryl Goldsleger

The Morris Museum of Art is pleased to present Unquiet Territories, a solo exhibition of works by Cheryl Goldsleger. The paintings and drawings in Unquiet Territories weave together clearly delineated geometry with abstract, painterly marks to express something akin to our contemporary sensibility. A psychological edge has been present in Goldsleger's work since the early 1980's, emphasizing her unique artistic vision which takes into account a sense of place, an understanding of history and an innate aesthetic sensibility that allows for both incident and accident within a strong geometric construct.
Lilly Wei describes the work in her catalogue essay, "They seem immense, offering glimpses of Blakean macrocosms and microcosms, of the celestial and terrestrial. There are worlds to be seen in Goldsleger's constellated imagery and extravagant linear networks, ….. We might be looking outward at a universe swirling in the splendor of expansion or contraction, creation or collapse. On the other hand, …. (these) invoke the information systems and surveillance apparatuses girding the globe…." These very dichotomies and ambiguities are what give Goldsleger's work its endless fascination. While the materials used are largely traditional, the perspective is global, mapping out a contemporary psychological landscape of change and uncertainty.
The exhibition will run from December 10, 2016 through March 12, 2017. Gallery hours are Tuesdays through Saturdays, 10:00 am -5:00 pm and Sundays, noon to 5:00 pm. The museum is closed Mondays and major holidays. The artist will give a talk on Friday, December 9th from 6:00 to 7:00 pm followed by a reception. A fully illustrated catalogue will be available in January with essays by Lilly Wei, JD Talasek and Fran Kaufman.
Cheryl Goldsleger, Recent Work, Sandler Hudson Gallery, Atlanta, GA
September 16 – October 22, 2016
The paintings and drawings in this exhibition are inspired by relationships between location and territory, between micro detail and macro expanse, and between order and chaos. Created in layers with a highly nuanced palette of whites, greys, blacks and colors, these new works deconstruct our perceptions and address aspects of reality that are perceived through feeling. Drawing upon eternal themes, these works explore the real and ephemeral qualities of space.
Cheryl Goldsleger in: Close Readings: American Abstract Art from the Vanderbilt University Fine Arts Gallery Collection
March 17 – May 26, 2016
Cheryl Goldsleger, Cardinal Point, 2013
Graphite powder with gum and arabic on paper, 22″ x 18″
Close Readings: American Abstract Art from the Vanderbilt University Fine Arts Gallery is presented in recognition of recent gifts of contemporary art from the collections of Sarah-Ann and Werner Kramarsky and of Edna and Monroe Kornfeld. Drawing on these new gifts, as well as Vanderbilt's own collection, Close Readings will feature a wide range of abstract art by some of America's most prominent artists, including Josef Albers, William Anastasi, Ross Bleckner, Stuart Davis, Sam Durant, Sam Gilliam, Cheryl Goldsleger, Lee Krasner, Robert Motherwell, Harvey Quaytman, Martin Puryear, and Mark di Suvero. Close Readings shifts away from the traditional exhibition with its singular "voice" of the curator in that forty departments and centers across Vanderbilt have been invited to respond to one of the many works of abstract art that will be shown, each providing a personal "close reading" from the perspective of a specific discipline. Faculty and students alike have submitted their writing, providing new, fresh insights into how we look at art. All of the responses are collected on a companion blog, accessible below.
This exhibition is supported by a generous gift from the Terra Foundation for American Art on behalf of board member Greg Williamson, with additional support provided by the Ewers Gift for Fine Art. It is organized by the Vanderbilt University Fine Arts Gallery and curated by Joseph S. Mella, director.
LASER: Leonardo Art and Science Evening Rendezvous at Augusta University
Tuesday, February 16, 2015, 6:00 – 8:00pm
J. Harold Harrison Educational Commons Auditorium
What does science have to do with art? Augusta University's Morris Eminent Scholar, Professor Cheryl Goldsleger brings the internationally known gathering LASER to Augusta University's community and the CSRA on February 16, 2016.
Founded in 2008 by LASER Chair Piero Scaruffi on behalf of Leonardo/ISAST, LASERs are now happening in over a dozen locales nationally and internationally: New York City, London, Toronto Montreal, Tacoma and University of San Francisco, Stanford University, UC Berkeley, UCLA, UC Davis, UC Santa Cruz and Kansas State University. Leonardo creates opportunities for the powerful exchange of ideas between practitioners in art, science and technology. Exploring the ways these disciplines intersect and how collaboration can be the catalyst for solutions to critical challenges of the 21st century.
JD Talasek, Director of Cultural Programming of the National Academy of Science will moderate a discussion between; Professor Cheryl Goldsleger (Artist), Dr. Michael Schwartz (Art History), Professor Amanda Behr (Anaplastology) and Dr. Paul Weinberger (Otolaryngology).
Cheryl Goldsleger Solo Exhibition at the Mary S. Byrd Gallery

November 5 – November 30, 2015
Cheryl Goldsleger's solo exhibition Explorations will be on view in the Mary S. Byrd Gallery in Washington Hall on the Summerville campus starting November 5th. She will speak about her work on November 5th from 5:00 to 6:00 pm in University Hall, room 170. A reception follows her talk in the gallery.
Explorations presents her recent drawings, focusing on the real and ephemeral qualities of space, and her paintings, which include both computer-drawn and produced sculptural elements combined with her sensuously cerebral encaustic surfaces.
The exhibition is sponsored by the Department of Art, Georgia Regents University, Augusta, Georgia. The talk and the exhibition are free and open to the public.
Cheryl Goldsleger named Morris Eminent Scholar in Art

Cheryl Goldsleger has been appointed the Morris Eminent Scholar in Art at Augusta University in Augusta, Georgia beginning in Fall 2015. The Morris Chair will provide leadership in the visual arts at Augusta University
and in the greater Augusta area. The Morris Chair is the first Eminent Scholar position among the senior colleges in the University System of Georgia and is made possible by William S. Morris III.
Line of Site: Chul Hyun Ahn & Cheryl Goldsleger
C. Grimaldis Gallery, 523 N. Charles Street, Baltimore, Maryland
April 1 – May 23, 2015
Chul Hyun Ahn and Cheryl Goldsleger explore the real and ephemeral qualities of space in this two-person exhibition of drawings: Ahn's light sculptures create the illusion of infinite depth, while Goldsleger's drawings flatten space into the two-dimensional plane by referencing WWI military maps and commenting on the relationship between location and territory. Using strong geometric shapes and lines, both Ahn and Goldsleger allude to the analysis of space and the construction of perspective.
MAC@20 Part II
Featuring The MAC Exhibiting Artists from 2005 – 2013
November 8 – December 20, 2014
In celebration of The MAC's 20th Anniversary Season it will hold a two-part group exhibition featuring artists who have held solo exhibitions or been part of a curated group exhibition. In May 2014, MAC@20 Part I included exhibiting artists from 1994 through 2004. In November 2014, MAC@20 Part II will include exhibiting artists from 2005 through 2013.
For the past twenty years, The MAC has maintained its important mission to stand as a Dallas advocate for creative freedom, offering the opportunity for experimentation and presentation of art in all disciplines. The MAC is honored to be a platform for the many artists in our region and to have introduced so many national and international artists to our thriving artist community. Having exhibited more than 300 regional, national, and international contemporary artists, The MAC is home to some of the most inspiring, challenging and riveting art in Dallas and North Texas.
Heated Exchange

Art Center Sarasota

October 9 through November 29, 2014
Co-curated by Reni Gower and Kristie Deetz
"Encaustic may seem anachronistic in our high tech world; yet, the artists of Heated Exchange clearly recognize its relevance in today's information-driven culture. In our ordinary lives, we find ourselves confined to a virtual world: talking on cell phones while surrounded by people in public spaces, relying on Global Positioning Satellites to tell us where we are, and avoiding crowded stores by buying books, clothes, and groceries on-line. With their use of encaustic, the artists in Heated Exchange challenge the primacy of virtual experience, while acknowledging its pervasive presence in contemporary life. By exploiting the physicality of their medium, they force the viewer to look deeper—past the transparent surface, past the represented image—to reinforce a material awareness of self and of place. In this way, they succeed in slowing us down, encouraging us to take time for synthesis, and allowing us to find personal meaning in the fast paced world of today." – Virginia Spivey, author and educator of 20th- and 21st-century art.
See Through Walls
Bernard A. Zuckerman Museum of Art
March 1 through April 26, 2014
Co-curated by Teresa Reeves and Kirstie Tepper
See Through Walls will bring together 15 artists and art collaboratives whose work explores the function and inner workings of real and conceptual constructions. Starting with the fundamental element that defines an architectural space, the wall, the exhibition looks at the physical and psychological dimensions of division, articulation and structure. An art history resource room will broaden the context of the exhibition, expanding the conversation beyond the physical walls to include historical materials, documentaries, media, international works and records associated with site-specific installations. Artists include Adriane Colburn; Bethany Collins; Annette Cone-Skelton; Ben Goldman; Cheryl Goldsleger; David Haxton; Imi Hwangbo; Casey Lynch; Gordon Matta-Clark; Casey McGuire; Jenene Nagy; Michael Oliveri; Sam Parker; Stanley, Beaman, & Sears; and Ruth Stanford.
"Cheryl Goldsleger: The NAS Project"
National Academy of Sciences, Washington, DC

February 8 through July 26, 2013
WASHINGTON – Artist Cheryl Goldsleger has created a body of work inspired by the architecture of the National Academy of Sciences (NAS) Building. "Cheryl Goldsleger: The NAS Project" features six canvases, a sculpture, and six computer animations. Working with architectural imagery throughout her career, Goldsleger is fascinated with the way that structures are built and the diverse needs they satisfy. The NAS Building sparked her interest as a symbol of the history and significance of science and scientific discoveries.
Designed by Bertram Grosvenor Goodhue, with sculptural details by Lee Lawrie, the NAS Building represents both a specific point in time, 1924 — the year it opened — and the timeless quest for scientific knowledge. Goldsleger's exhibition celebrates the work of generations of scientists who build upon each other's knowledge and reach previously unimagined heights of discovery and depths of understanding.
Goldsleger referenced information from the NAS Archives and studied Goodhue's original building plans, along with numerous other sources, to create this body of work. She invites visitors to see the structure anew and explore the intricate network of ideas that are embodied in it. The exhibit coincides with the 150th anniversary of the National Academy of Sciences, which was established under a congressional charter signed by President Abraham Lincoln in 1863. http://www.cpnas.org/exhibitions/archive/cheryl-goldsleger.html